For any assistance on Accessibility Room availability and Hotel facility information, Or for any special requests kindly contact Hotel :
+1 (989) 362-3234
Paradise Beach Resort Hotel Policy & Provisions Book Now
Reservation & Cancellation Policy
Your reservation is guaranteed with FIRST NIGHT RENT non-refundable deposite made upon booking.
Deposits are transferable to a different person, unit or date, provided notice is prior to one month of arrival.
Availability of accommodation for reservation changes at Paradise Beach is NOT guaranteed.
Cancellation will not be accepted due to weather or other acts of God.
We recommend you purchase travel insurance to protect your vacation investment.
Rates quoted are in US currency.
Provisions Policy
Paradise Beach provides brooms, sheets, blankets, pillows, refrigerators, coffee makers and TVs in each unit.
Cleaning units is done weekly by Paradise Staff. Additional cleaning is available for a fee.
Microwaves, cooktops, slow cookers, toasters and toaster ovens are available as needed.
A community room provides a range, oven, coin laundry, vending machine and powder room.
Grills, outdoor tables ad seating are provided and will be maintained daily.
Charcoal, lighter fluid, firewood, and other items are available at the Office for a small fee
Cottages provide cookware and serving ware for the unit.
All items must remain in their respective units.
Rules Policy
NO SMOKING in any unit. A $500 fine will be charged for violations.
Pets are NOT permitted.
There is ONE PARKING SPOT per unit.
Additional parking needs will be addressed by the manager as needed and available.
Check-In Policy
Paradise Beach requires that you are at least age 21 to check in.
A $250.00 cash security deposit is required with cash or check payments, or…
A credit card is required in lieu of security deposit.
Availability of accommodation for extra guests at Paradise Beach is NOT guaranteed.
Check in time: 5 PM - 7 PM.
If you need a late check-in, please contact Paradise Beach to arrange directly.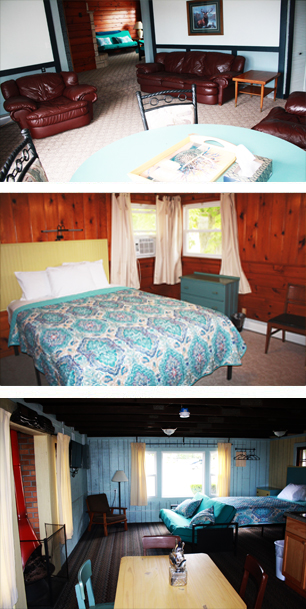 Check-Out Policy
Check out time: 8 AM - 10 AM.
Guests are required to leave the cottage as close to the condition they found it. Photos are taken before arrival and again upon cleaning service entry after check-out.
Security Deposits will be reimbursed after cleaning service is complete. Refunds shall be made by check and sent to registrant address on file, or…
Your credit card on file will be used to remit damage and undue cleaning charges.
Paradise Beach Resort Guest Policy
NO SMOKING IN ANY UNIT. This is a state law. You will be fined up to $300 for violations.
ALL Cottages, Studio, Villa and Suites are SELF SERVICE. Paradise Beach provides brooms, bed linens, refrigerators, microwaves, coffee makers and TVs in each unit. Vacuums are available upon request. Paradise provides a clean unit upon your arrival. We ask that you maintain the unit as your own home for the duration of your stay and leave it as you first arrived.
QUIET TIME 11 PM through 8 AM.
NO overnight guests are permitted without prior approval.
NO GLASS outside cottages, suites, studio or villa.
USE trash can liners for sanitation.
DAILY take ALL trash to the dumpster at the front parking lot.
DO NOT remove blankets, sheets or other Paradise supplies from units.
DO NOT put grease, coffee grounds, tampons, sanitary napkins, or refuse down drains or in toilets.
DO NOT clean fish in units. There is a CLEANING STATION provided near the dumpster.
DO NOT sit on upholstered furniture or mattresses with wet swim suits.
PUT OUT FIRE PIT WITH WATER.
USE FIRE EXTINGUISHER IN KITCHEN EMERGENCY.
CHECK OUT TIME IS 10 AM.
PLEASE LEAVE THE UNIT IN THE SAME CONDITION AS WHEN YOU ARRIVED. Do not leave dirty dishes, garbage, bottles, cans, or other messes.
There is ONE PARKING SPOT per unit. Additional parking needs will be addressed by the manager as needed and available.
NO PARKING in front of DUMPSTER.
GRILLS ARE FOR GRILLING ONLY. NOT camp fires.
Children are required to be attended by an adult at all times.
There is NO life guard on the beach. Please observe beach safety at all times.
Game equipment and supplies are available at the office on a first come first serve basis. Please return all equipment to the office for the next guest to use. A sign up sheet may be required during times of high demand.
KEEP THE OUTSIDE AREA CLEAR OF DEBRIS, GARBAGE, AND PERSONAL BELONGINGS.
Outside Trash Cans are for paper plates and picnic debris. Garbage needs to be placed in the dumpster directly.
Vacuums and plungers are available at the office for your use. Units are provided with a broom.
Office Hours are varied. Please call us at +1 (989)-362-3234 or +1 (800)472-6518 for any assistance or stop by when you see our office OPEN sign.